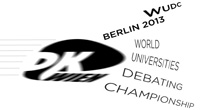 This short post shall give you a short overview of what is coming up in the next few weeks and explain why some of our members did not get accumulate too many hours of sleep in December.
1 – Worlds University Championships in Berlin start now! This is how you stay up to date.
2 – Vienna Winter Worlds Prep. Michael Shapira gave our speeches the final touches for Berlin. Teams from as far as Mexico came.
3 – Training Debates and DKWien Knowledge Show. Why December was too short.
4 – Tilbury House IV. Just that we do not forget to mention. December started off MASSIVELY. We had two teams in the finals of Tilbury House IV Cologne